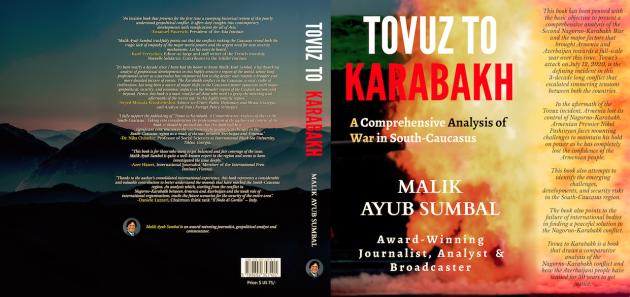 This book has been penned with the basic objective to present a comprehensive analysis of the Second Nagorno-Karabakh War and the major factors that brought Armenia and Azerbaijan towards a full-scale war over this issue. Tovuz's attack on July 12, 2020, is the defining incident in this 3-decade long conflict that escalated simmering tensions between both the countries.
In the aftermath of the Tovuz incident, Armenia lost its control of Nagorno-Karabakh. Armenian Premier Nikol Pashinyan faces mounting challenges to maintain his hold on power as he has completely lost the confidence of the Armenian people. This book also attempts to identify the emerging challenges, developments, and security risks in the South-Caucasus region. The book also points to the failure of international bodies in finding a peaceful solution to the Nagorno-Karabakh conflict.
Tovuz to Karabakh is a book that draws a comparative analysis of the Nagorno-Karabakh conflict and how the Azerbaijani people have waited for 30 years to get justice.
**
Thanks to the author's consolidated international experience, this book represents a considerable and valuable contribution to better understand the wounds that have marked the Southern Caucasus region. An analysis which, starting from the conflict in Nagorno-Karabakh between Armenia and Azerbaijan and the weak role of international organizations, tracks the future scenarios for the security of the entire area.

Daniele Lazzeri, Chairman think tank "Il Nodo di Gordio"